Are you selling products on Instagram? Wondering how to create Instagram posts that interest shoppers?
In this article, you'll discover four ways to showcase and promote your products on Instagram.
First, Attract an Audience That's Likely to Convert
To have success selling on Instagram, you first need to build a following of people who have a genuine interest in your brand and products. If you don't have the right audience, you'll have a difficult time converting them to customers.
One way to attract new followers is to use hashtags in your Instagram posts. Choose hashtags that your ideal customers might use, search for, or follow. Don't be afraid to experiment. It might take some time to find the right combination of hashtags that reaches your ideal followers.
If you're a local business or a restaurant (or even if you're not), you'll also want to add geolocations where your ideal customers are. Chances are they'll look for a specific location and you'll want to be there when they do.
Once you've developed a following that's likely to convert, here are some ways to promote your products on Instagram.
۱: Showcase Your Products With These 4 Instagram Image Styles
Because Instagram is a visual platform, it's the perfect place to share images of your products and your brand. The key is to post photos that reflect your brand's image and capture your products in a way that appeals to your followers. You want them to visualize themselves actually using those products.
If you scroll through Instagram, you'll see some flat lays, detail shots, model shots, and lifestyle images. Each image type can effectively showcase your products.
Photograph Products in a Flat Lay Setting
If you want to capture your product in a flat lay setting, choose a plain, neutral background for your shot. If you don't have a table or floor that works, buy some poster paper from your local craft store. The best flat lay effects come when you shoot from above, so make sure you have a ladder or stepstool nearby to help you get the right angle.
When positioning your product in the shot, decide if you want to leave some space for a text or graphic overlay and then start shooting. Take plenty of pictures so you have multiple options to choose from. (Maybe leave space for text in some and not in others.) With a little editing, you'll have beautifully styled product photos.
Capture Unique Product Details
Does your product have small, intricate details? Is there some sort of electronic or complex component? A beautiful pattern on one side? Nearly every product can benefit from close-up shots that focus on a unique attribute.
Whether you're zooming in for clarity or to create a beautiful picture, detail shots are an effective way to put the spotlight on your product.
Incorporate People in Your Shot
If you sell clothing, jewelry, or other wearable products, chances are you've already been thinking about using people to model your wares. Consumers tend to respond well to any images that include people. Even if you sell coffee mugs, notebooks, or products you wouldn't normally associate with a model shot, consider working someone into your photo to make it easier for followers to connect with your offering.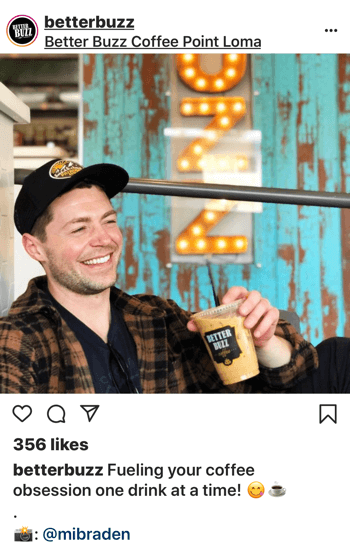 Lifestyle images showing your products in use also work effectively on Instagram. These images should be more laid back and less styled than model shots. Try to capture your products naturally so customers can better visualize how they would use them in their own lives.
Develop a Cohesive Instagram Grid
When showcasing products on Instagram, it's important to create a cohesive grid on your profile. There's some debate as to how important your grid is, but it's better to err on the side of a strategic, well-coordinated set of images.
If customers or potential followers come across one of your images—say, in a hashtag search—and like it, they'll likely visit your grid next to see what else you sell. If your grid looks disconnected with a wide variety of image types and no apparent theme or plan, it could turn off potential customers. While you don't want your feed to look like a catalog, it will likely serve as one.
Putting in the time to create a visual style for your grid can make a big impact on consumers. See how all of the below image examples fit together to create a well-balanced grid? That's the goal!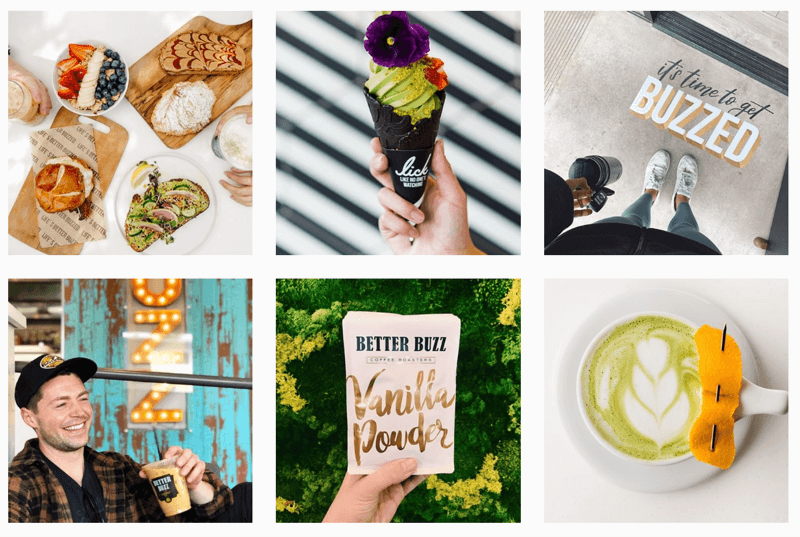 ۲: Encourage Product Browsing With Shoppable Instagram Product Tags
Once you've taken engaging photos of your products to share on Instagram, turn your focus to simplifying the buying process. The easier you make it for people to purchase, the better. By removing barriers to action, you can convert more of your followers into customers.
Shoppable product tags can help businesses increase traffic and revenue. When users tap on a tagged image to see the price, they're just a couple of taps away from putting it in their online shopping cart.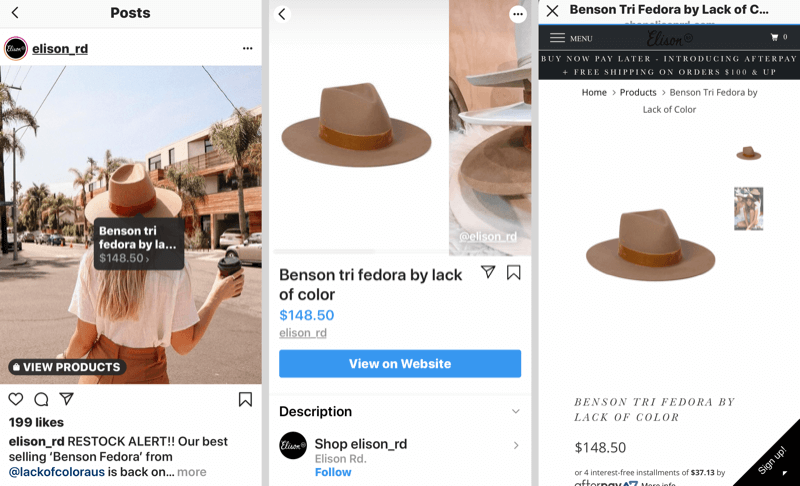 ۳: Place Purchase CTAs in Instagram Stories With the Swipe Up Feature
The popularity of Instagram stories makes them a perfect place for brands to connect with their followers. The swipe up feature, which is unlocked after your account reaches 10K followers, lets you drive your followers directly to your website.
Once you've created your story (whether it's a video, image, or boomerang), tap the chain-link icon and type in the web address you want your followers to reach.
It's also a good idea to include "Swipe up" or some other call to action (CTA) in your visuals to encourage followers to act. This is especially important for people who aren't watching your stories with the sound on. The See More link at the bottom of the screen can be easy to miss!
۴: Announce Sales and Discounts With Branded Graphics
Instagram captions are where your brand's personality can really shine through, but sometimes your followers will overlook them, especially when they're scrolling quickly. To draw attention to important posts about big sales or events, create customized graphics to announce them while staying on-brand.
Designing beautiful branded graphics is important, but not everyone can afford to hire a graphic designer. Luckily, you'll find plenty of affordable tools that make it easy to create professional images.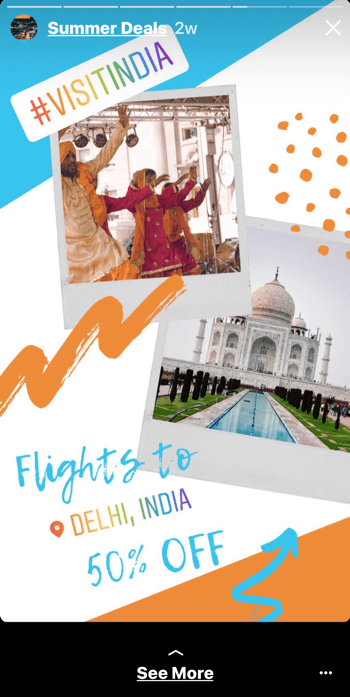 Conclusion
Instagram is one of the fastest-growing and most popular social media platforms, especially for businesses. But that doesn't necessarily mean it's easy to see a good return on your investment.
To find success selling on Instagram, first you need to develop a following that has a genuine interest in your business and products. Then use the four tactics above to start converting those followers into paying customers.